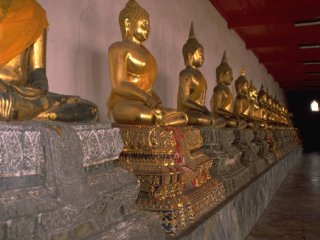 Description
Objectives
Outline
Materials
System Requirements
Watch a Demo
Our World Religions course offer students a comparative study of the world's major religions. We examine important themes such as myths, rituals, scriptures, and paths of transformation throughout the course. We cover the historical aspects of Native American, African, Hinduism, Jainism, Buddhism, Confucianism, Daoism, Shinto, Zoroastrianism, Judaism, Christianity, Islam, and Sikhism religions, as well as modern day philosophies.
Prerequisite: None
After completing this course, you should be able to:
Identify major beliefs and rituals of the world's religions
Recall various paths of transformation and reconnection in different religions
Recognize the communities, organizations, institutions, and actions that influence major religions
Define the ethical values found in major religions
Identify characteristics and traits of modern-day religions
World Religions Module 1
Indigenous Religions
What is Religion?
Why Study Religion?
Dimensions of Religion
Ways of Studying Religion
Types of Indigenous Religions
Common Features of Indigenous Religions
Native American Religion: Lakota
An African Religion: Yoruba
An Afro-Caribbean Religion: Vodou
World Religions Module 2
Hinduism  
The Name Hinduism
Hindu Present as Shaped by Its Past
Essential Hindu Teachings
Hindu Ethics and Ways of Life
Hindu Ritual and Mediation
Hinduism around the World Today
World Religions Module 3
Jainism
The Name Jainism
The Symbol of Jainism
Essential Jain Teachings
Ethics: The Five Cardinal Virtues
Jain Ritual and Worship
World Religions Module 4
Buddhism
The Name Buddhism
Achievement of Enlightenment
Essential Buddhist Teachings
Buddhist Ethics for Monastics and Laypeople
Buddhist Ritual and Meditation
Buddhism Around the World Today
World Religions Module 5   
Sikhism  
The Name Sikhism
The Ten Gurus
Sikhism from British Rule until Today
Essential Sikh Teachings
Key Sikh Ethics
Sikh Rituals and Worship
Sikhism around the World Today
World Religions Module 6
Daoism   
The Names Daoism and Confucianism
China Before the Rise of Daoism
Confucius and the Origins of Confucianism
Essential Daoist and Confucian Teachings
Daoist and Confucian Ethics
Ritual and Worship
Daoism and Confucianism around the World Today
World Religions Module 7
Shintoism
The Symbol of Shinto
Before the Arrival of Buddhism
The Yasukuni Shrine Today
Shinto Teachings
Shinto Ethics
Shinto Ritual
Shinto around the World Today
World Religions Module 8
Zoroastrianism
Names for Zoroastrianism and Zoroastrians
The Birth of Zoroastrianism
The Coming of Islam
Essential Teachings: Monotheism and Moral Dualism
Zoroastrian Ethics
Zoroastrian Rituals
Zoroastrianism around the World Today
World Religions Module 9
Judaism
The Name Judaism and Related Terms
The Jewish Present Shaped by the Past
Essential Teachings of Judaism
Essential Jewish Ethics
Jewish Worship and Ritual
Judaism around the World Today
World Religions Module 10
Christianity   
Symbol of Christianity
The Life, Death, and Resurrection of Jesus Christ
Modern Christianity
Christian Teachings as Reflected in the Nicene Creed
Christian Ethics
Christian Worship and Ritual
Christianity around the World Today
World Religions Module 11
Islam and New Religious Movements
The Name Islam
Essential Islamic Teachings
Islamic Ethics
The Five Pillars of Islam
Islam around the World Today
Encountering New Religions Movements
**Outlines are subject to change, as courses and materials are updated.**
Ed4Career is committed to being both environmentally conscious and making it easier for you to study! We're making your education mobile! All of our textbooks are now provided as eTextbooks. You can access them on your laptop, tablet, or mobile device and can study anytime, anywhere.
The move away from physical books to eTextbooks means you get the latest, most up-to-date version available. This also makes your training more accessible, so you can study anywhere you have your phone or tablet. The best part is that all materials are included in your training cost so there are NO extra fees for books!
Internet Connection
Broadband or High-Speed - DSL, Cable, and Wireless Connections
*Dial-Up internet connections will result in a diminished online experience. Classroom pages may load slowly and viewing large audio and video files may not be possible.
Hardware Requirements
Processor - 2GHz Processor or Higher
Memory - 1 GB RAM Minimum Recommended
PC Software Requirements
Operating Systems - Windows 7 or higher
Microsoft Office 2013 or higher. Also, you could use a general Word Processing application to save and open Microsoft Office formats (.doc, .docx, .xls, .xlsx, .ppt, .pptx)
Internet Browsers - Google Chrome is highly recommended


Cookies MUST be enabled
Pop-ups MUST be allowed (Pop-up Blocker disabled)

The Kindle Reader App or VitalSource Bookshelf App are needed for many of our courses (No special equipment needed. This can be downloaded for FREE onto your computer.)
PowerPoint Viewer (if you do not have PowerPoint)
QuickTime, Windows Media Player &/or Real Player
MAC Software Requirements
Operating Systems - Mac OS x 10 or higher with Windows
Mac office programs or a Word Processing application to save and open Microsoft Office formats (.doc, .docx, .xls, .xlsx, .ppt, .pptx)
Internet Browsers- Google Chrome is highly recommended


Cookies MUST be enabled
Pop-ups MUST be allowed (Pop-up Blocker disabled)

The Kindle Reader App or VitalSource Bookshelf App are needed for many of our courses (No special equipment needed. This can be downloaded for FREE onto your computer.)
PowerPoint Viewer (if you do not have PowerPoint)
Adobe PDF Reader
Apple QuickTime Media Player